February 23rd, 2023
Comments Off

on The 3 Most Important Office Areas to Keep Clean | Spotless Commercial Cleaning
Every business owner or office manager wants to see their employees work to the absolute best of their abilities. But many forget that they need to create the right conditions for success! When it comes to performance in the workplace, one of the most important motivators is a clean workplace. Diving even deeper, it is crucial to understand the three most important office areas to keep clean.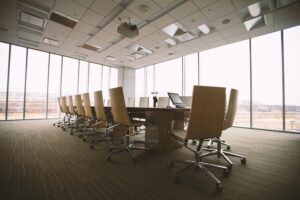 The Kitchen and Break Room
Every leader wants their employees to prioritize their work and to provide the best possible results for any given task. True balance is when that leader makes sure to prioritize their employee's downtime. This starts with the kitchen and break room. After long and stressful hours, workers want a clean and comfortable place to take their well deserved breaks. Plus, no one wants to try and prepare lunch in a dirty kitchen. Make sure these areas are cleaned consistently so your employees can truly enjoy their breaks!
Bathrooms
Everyone knows about the messes that can appear in a bathroom, but no one wants to be reminded of it. Especially if they're just taking a quick break in between important tasks. Don't let an employee's disgust inhibit their ability to provide desired results. Make sure your bathrooms stay clean and your employees stay happy!
The Lobby
They say you only get one chance at a good first impression. The entrance to your workplace is a representation of the rest of your office and what people should expect. Make sure it's looking 100 percent so your employees recognize your standards and your visitors continue to be impressed. 
Montgomery County Trusts Spotless Commercial Cleaning 
If you've noticed an issue with your employee's attitudes, performance and overall happiness, it may be time to consider cleaning up your workspace. A cleaner office results in happier, more productive workers. This is where Spotless Commercial Cleaning comes in. We at Spotless CC are experts in office cleaning and guarantee the best results each and every time we visit the office. Make no mistake, we offer every cleaning service you will ever need, along with years of professional experience to ensure you get unrivaled results. Contact us today and see why we're Montgomery County's most trusted cleaning service!