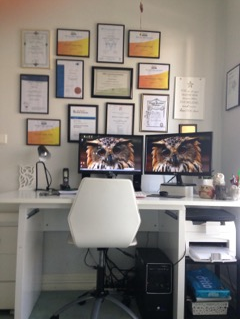 For many of us, the office is our second home. We eat meals there, we build friendships there, and some of us may even find ourselves sleeping there from time to time. The math is simple: if you work forty hours a week, you're spending over half of your waking hours during the week at the office. That being said, it would make sense for your workspace to be a place you actually enjoy being, right?
Spotless CC is the Montgomery County commercial cleaning company with tips to help you turn your office space into one that's more inviting and boosts your productivity. Who would say no to that? We are Montgomery County's premiere cleaning service, so we always have professionals in mind. In this blog, you'll learn how just a few simple changes can turn you work space into a place you can consider your home away from home.
Tips From Your #1 Montgomery County Commercial Cleaning Team
Here are five tips from your go-to commercial cleaners in Montgomery County, to make your workspace more comfortable:
Add Pops of Color: Colors can have a pretty big effect on your mood and emotions. Add pops of blue for calm feelings, or red for accuracy and attentiveness.
Add Plants: Studies show that live plants can reduce headaches and fatigue. Get an easy-to-care-for plant, or get some of your favorite flowers and pop them on your desk. It'll help brighten up your day!
De-Clutter Everyday: Before you get started each day, take a few minutes to clear any clutter or mess leftover from the day before. This will give you a clean slate to work on and help keep your mind clear and calm!
Decorate: If it's your own space, don't be afraid to decorate a little! Pictures of family and friends can be comforting and keep you uplifted throughout the day.
Music: If you can't play it out loud, bring some headphones and jam out to your favorite non-distracting tunes during the workday.
The Montgomery County Commercial Cleaning Company With Experience
At Spotless CC, we are commercial cleaners in Montgomery County who care about our employees and customers and strive to provide honest and efficient service. We offer a variety of services including window washing, carpet cleaning and more! So call us today at (267) 217-2003 and get your office a good clean you won't regret!