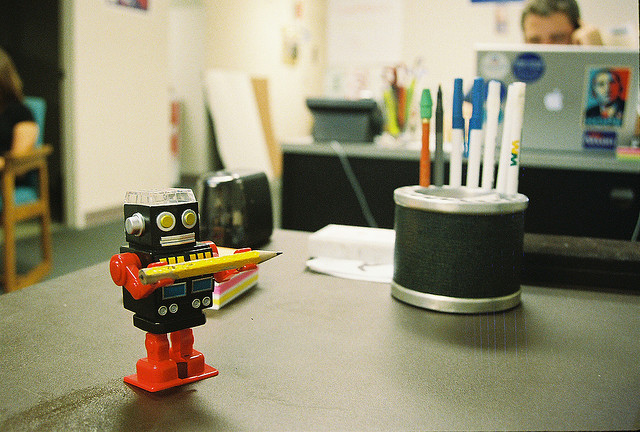 If you're the type of person who feels most at home while wading in a sea of clutter, you're not alone. Many of us can live in a disorganized environment, unaffected by the chaos. And then there are those of us who would rather die than leave their clothes in a pile on the floor! We're not going to claim one lifestyle is better than the other, but we are going to take a look at some of the benefits of getting organized, especially in the workplace. If you've been working in disarray and disorder, and it's been driving you up a wall, this post is for you!
A clean, organized office:
Breeds success. A tidy workplace can encourage workers to be more productive. Not only will it be easier for them to keep things in order, it will also instill a sense of pride in their working environment.
Promotes health and safety. This benefit is an obvious one. The cleaner your office is, the less likely it will be for your employees to contract illnesses. Get rid of old food in the refrigerator, which can contain dangerous micro-organisms, and wipe down surfaces frequently. Make sure you objects on the floor are cleared away, otherwise someone could trip, and clean up spilled liquids as soon as possible to avoid falls.
Boosts morale. De-cluttering your office area can help de-clutter your mind. An orderly workplace can save time and relieve pressure. Less stress and more productivity leads to a sense of fulfillment, and more enjoyment at work! Your employees are less likely to lose their patience with one another when their stress levels have been reduced.
Attracts clients. When clients visit your office, they want to see a company that has its act together. Clients may take their business elsewhere if they get the impression that your company lacks professionalism due to an untidy office.
We know you might not have much time to organize your office — you have work to do! The key to staying organized is to take it a day at a time. Give yourself small, daily tasks to complete to keep the mess from piling up. As for the grit and grime, leave it all to Spotless Commercial Cleaning! We'll handle the more time-consuming, nitty-gritty work, such as carpet cleaning, floor stripping, window cleaning, and general office cleaning. To learn more about our cleaning services, call us at (267) 217-2003, or email sales@spotlesscc.com. Do not hesitate to contact us with any questions or comments!