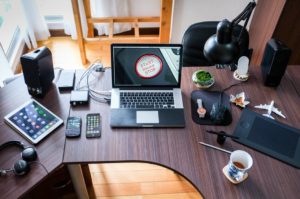 It's an annoying situation that you've experienced many times before – walking into your office the morning after a cleaning to find that your office supplies out of place. Your organized shelves have been shifted and reordered. For some reason, your monitor is unplugged. But worst of all, there is still a fine layer of dust collecting on your desk, where the janitors didn't want to risk moving your things. It feels like all you can do is sigh, and conclude that getting quality janitorial cleaning in Media PA can be a real pain.
Unfortunately, this often happens when an external janitorial service is hired in the corporate world. They aren't familiar with your specific business, and may not know much about the needs of corporate spaces. This is why most businesses are unsatisfied with their current cleaning services.
Janitorial Cleaning in Media PA – Run by Corporate Professionals
We spoke with hundreds of companies about their office cleaning and found that most were unsatisfied with these areas:
Sometimes the cleaning was not being done at all!
A different cleaning person every time
Non-uniform wearing cleaner- could not recognize them
No id badges for cleaners
We have made sure to address all of these issues. In addition to performing background checks and assigning uniforms, we hire working professionals who have had exposure to office settings. Most of them have college degrees and live in the local area.
We are dedicated to providing the professional business world with cleaning services catered to each business's needs. Let's be honest: to outsiders, the corporate world can seem very strange. Choosing Spotless Commercial Cleaning ensures that you are getting insider help from people who have learned the ins and outs of your world through their own experience.
But don't take our word for it! Check out some of the testimonials we have received from satisfied customers in the area.
Make Spotless YOUR Cleaner
If you can relate to any of the above, or if you just want a reasonably priced cleaning company to service your business, we would urge you to contact us for a FREE environmental cleaning quote today! Don't just sigh and resign yourself to poor service. Get your money's worth. Get Spotless Commercial Cleaning!