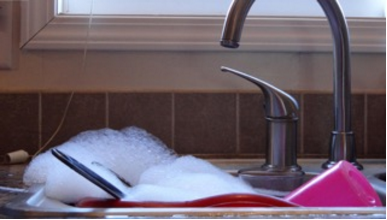 Love having an office kitchen but hate the seemingly inevitable mess that comes with it? You're not alone! According to a survey in 2010, 44% of workers said that a mess in the office kitchen is the most annoying break room habit of their coworkers. But don't worry, it's not an impossible habit to break!
Spotless Commercial Cleaning is a Montgomery County cleaning company that has been serving businesses in the Delaware Valley for many years. We only work with corporate and professional offices so we know exactly what it takes to create a clean, successful environment – from your desk all the way to the office kitchen.
As the #1 commercial cleaning company in Montgomery County, we'll give you a few tips to help encourage your employees to hop on dish duty:
Set a policy – Rules are rules, but if there are no rules regulating kitchen cleanliness, then kiss your dreams of a clean kitchen goodbye! Setting a policy and having it written out in the employee handbook is a simple way to encourage good kitchen etiquette.
Post the rules – Once a policy is in place, make it known! Email reminders to your employees and post the rules in the break room where everyone can see it. This way, one employee doesn't end up feeling like they have to be a kitchen monitor.
Make a calendar – Make a schedule for when the dishwasher should be loaded and unloaded. Having a set date will help encourage employees to be more mindful of keeping the space tidy.
Clean up after yourself – If you spill something, wipe it up right away. Also, refill anything you've emptied, such as the office coffee pot or paper towel roll. If everyone pulls his or her own weight, there won't be much cleaning left to do!
Put someone in charge – Sometimes, assigning someone to monitor the kitchen cleanliness is a good option so everyone is held more accountable. Make sure the person in charge is someone who can confidently but kindly remind their coworkers to pick up after themselves.
Contact This Montgomery County Commercial Cleaning Team Today!
If you're sick and tired of the grease and grime that's taking over your office kitchen, team up with Spotless, Montgomery County's #1 commercial cleaners. Spotless is licensed, bonded and insured, and all of our employees go through thorough background checks before they are hired. This makes us the most trusted commercial cleaners in Montgomery County, so contact us today to transform your office into the most clean and efficient space possible. You can contact us by calling 267-217-2003 or by filling out our contact form. We look forward to helping bring your office up to the Spotless standards!