June 27th, 2023
Comments Off

on Count on Spotless for Montgomery County Window Cleaning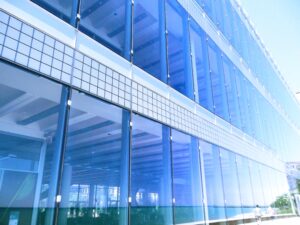 When it comes to maintaining a professional and inviting office space, cleanliness is key. One often overlooked aspect is the importance of clean windows. Clean windows not only enhance the overall appearance of your office but also provide a range of benefits. In Montgomery County and surrounding areas, Spotless Commercial Cleaning is your trusted partner for exceptional office window cleaning services. Let us highlight why window cleaning is crucial and how our dedicated team can consistently deliver outstanding results!
The Importance of Window Cleaning
Windows act as gateways to natural light, providing a positive and uplifting atmosphere within your office. However, over time, windows accumulate dirt, dust, fingerprints, and other grime, diminishing their clarity and obstructing a beautiful view. Regular window cleaning is vital to maintain a clean and professional environment, impressing both clients and employees alike. Clean windows also allow more natural light to enter, reducing the need for artificial lighting and creating an energy-efficient workspace.
Spotless Commercial Cleaning's Window Cleaning Services
Spotless Commercial Cleaning understands the unique requirements of businesses in Montgomery County. Our experienced team utilizes industry-leading techniques and tools to deliver exceptional window cleaning services. From small office buildings to large corporate complexes, we have the expertise to handle projects of all sizes.
Our comprehensive window cleaning services include:
Thorough Cleaning: We meticulously clean both the interior and exterior surfaces of your windows, ensuring a streak-free and spotless finish. Our team pays attention to detail, removing dirt, grime, and smudges to provide you with crystal-clear windows.

Frame and Sill Cleaning: We don't just focus on the glass; our experts also clean the window frames and sills, removing built-up dirt and dust. This attention to detail ensures a thorough and polished appearance.

Safety and Professionalism: At Spotless Commercial Cleaning, safety is our utmost priority. Our trained professionals utilize proper safety equipment and follow industry best practices to carry out window cleaning services efficiently and safely.
Trust Spotless Commercial Cleaning
When it comes to your office window cleaning needs, Spotless Commercial Cleaning is the name you can trust. Our commitment to excellence, attention to detail, and personalized approach set us apart. We pride ourselves on delivering consistent, high-quality results that exceed client expectations. Transform your office environment with sparkling clean windows. Contact Spotless Commercial Cleaning for a consultation and discover how our expert window cleaning services can enhance the appearance and ambiance of your office space. Trust us to provide you with the very best service, ensuring your windows are spotless and your office shines with professionalism. Don't miss the opportunity to make a lasting impression!