December 21st, 2022
Comments Off

on New Office? Same Standards of Cleanliness!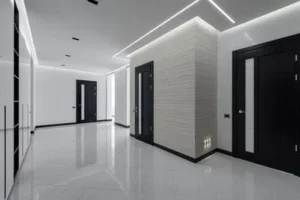 With all the stressful and varying factors that come with opening a new office space, some of the more routine procedures might slip your mind. By no fault of your own, there are plenty of things that may be prioritized over simple cleaning services. However, that doesn't mean it should be ignored. Keeping your new office space clean is actually one of the more important aspects of making a strong first impression with your employers and setting a high standard right away. For this reason, trust Spotless Commercial Cleaning with any post-construction cleaning services!

Post-Construction Cleaning
There's nothing more exciting than finishing a major project like the construction of a new building. Especially an office building, where the employer is proud to offer a new work space for their workers to hopefully spark innovation and inspiration. Although it may be one of the more important concerns, making sure the office is clean from the beginning may be one of the last things on your to-do list. Having your office space clean right from the start sets a standard that should be consistently met as time goes on. Plus, it can contribute to making that solid first impression which any businessperson knows is important. We at Spotless understand this, which is why you should trust us as your cleaning service, because even though your office building may look brand new, you can count on us to go the extra mile!
Expert Service
A brand new office building may look great from the outside, however, the inside will surely have some messes. Construction workers, engineers, electricians and plumbers may all be pretty good at their respective jobs, but they're no expert cleaners, and will leave behind a mess from time to time. That's where Spotless Commercial Cleaning comes in. Our trained, experienced cleaners know exactly the kind of standards you're trying to set, and we'll exceed them. Whether it's carpet cleaning, window washing, or simple office tidiness, we have the knowledge and resources to make sure your office is looking a hundred percent. Additionally, if you're looking for a routine cleanup, or a one-time job, you're guaranteed to be happy with our work. 
Trust us With the Job 
We at Spotless Commercial Cleaning understand the importance of keeping your workspace clean. In general, it will keep your employees happier and more driven, leading to better performance across the board. The completion of a new office building can be an exciting and eventful time, with a lot of changes happening all at once. We also understand that with all of these exciting things happening, making sure your office building is clean on the inside might be the last thing you want to worry about. That's why you should trust us at Spotless to do the dirty work for you. Whatever cleaning service you may be looking for, we offer the best, which we're confident will meet your standards. If you're looking to tidy up your building following its construction, contact us today and trust that we'll provide the best possible service to have your workspace looking brand new, as it should be!