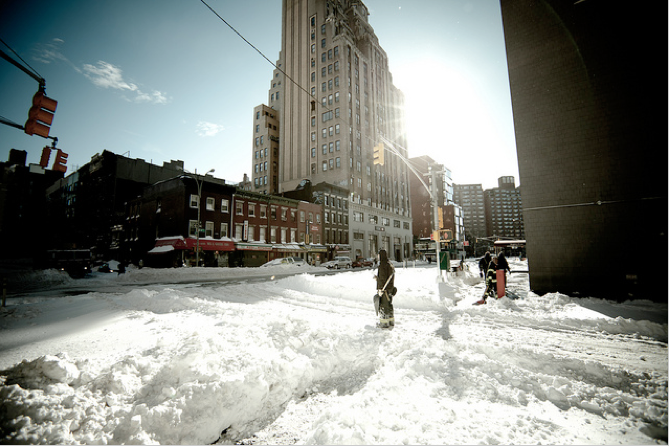 You may be in denial that winter is right around the corner, but that doesn't mean you should neglect preparing for the inclement weather that's coming. Snowstorms, thunderstorms, ice, and hail make commuting to work difficult – and treacherous! – and when you finally get to work, you drag in the dirt, slush, and debris on your boots, which can create a huge mess in your office building. That's not to mention the fact that your employees are also passing around a cold. What can you do? We've compiled a list of ideas to winterize your office and make this transition to cold weather a much smoother one. First off:
1. Put down some floor mats.
When an employee or visitor steps into the office and sees a floor mat, they know what to do. Stamping or wiping your shoes on a mat before walking on the floors will reduce slips and falls and keep your floors relatively clean. At the end of the day, mats can be shaken out or vacuumed.
2. Protect floors.
This is much trickier to do on your own, so make sure you have a Montgomery County commercial cleaning company on call for hardwood, tile, or linoleum floor waxing and cleaning. Waxing will make your floors easier to clean and will protect them from wear and tear and chemical damage. If you have rugs or carpet in your office, you'll notice how grimy they get as the winter goes on. With a professional cleaning company, you won't have to worry about that!
3. Disinfect office materials.
It's cold and flu season, so it's time to prioritize wiping down appliances, door handles, and other items that are used on a daily basis. Keep your employees healthy!
4. Revise your cleaning schedule.
As the seasons change, your cleaning checklist changes too. You may have to change the frequency of your cleaning company's visits, and perhaps shift their focus and add some new areas. The benefit of working with a professional Montgomery County commercial cleaning company is that they'll know what changes should be made to your building's cleaning regimen for winter, and they'll give you the peace of mind that comes with knowing your building is being well taken care of.
If you still need to winterize your office, leave it to talented team at Spotless. Contact us today by calling (267) 217-2003, emailing sales@spotlesscc.com, or filling out our contact form. We'll get back to you as soon as we can! We look forward to chatting with you and coming up with a cleaning schedule that aligns perfectly with your office's needs.