May 24th, 2023
Comments Off

on Professional Daycare Center Cleaning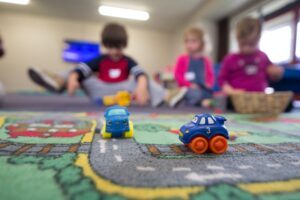 As a daycare center worker, you know how important it is to maintain a clean and safe environment for the children in your care. However, with so many little ones running around, it can be challenging to keep up with all the cleaning tasks that need to be done on a daily basis. That's where professional cleaning services, like Spotless Commercial Cleaning, can come in handy!
Here at Spotless Commercial Cleaning, we understand the unique needs of daycare centers. Our team of experienced cleaners are trained to provide comprehensive cleaning services that meet the highest standards of cleanliness and hygiene. From bathroom cleaning to window cleaning and everything in between, we've got you covered.
Bathrooms and Windows
Bathroom cleaning is especially important in daycare centers, as young children are more susceptible to germs and infections. Our cleaning experts use top-quality disinfectants and cleaning products to ensure that every surface is thoroughly cleaned and sanitized, reducing the risk of illness for both children and staff.
On top of bathroom cleaning, we also offer window cleaning services to ensure that your daycare center is bright and welcoming for both children and parents. Clean windows not only improve the appearance of your facility but also provide natural light, which has been shown to improve mood and productivity.
We Cover Everything
In addition to both bathroom and window cleaning, we're happy to take on any other cleaning needs you may have. At Spotless Commercial Cleaning, we know that every daycare center is unique, which is why we offer customizable cleaning packages to meet your specific needs. We work with you to develop a cleaning plan that fits your schedule and budget, so you can focus on what you do best – caring for children.
Choose Spotless for Your Cleaning Needs
By choosing our professional cleaning services, you can have peace of mind knowing that your daycare center is being cleaned by experts who are dedicated to providing the highest quality services possible. Don't let cleaning tasks distract you from your primary responsibilities. Contact Spotless Commercial Cleaning today for a consultation and see the difference our services can make in your facility! Remember, a clean daycare center is not only important for the health and safety of children but also for the well-being of staff. Let us take care of the cleaning, so you can focus on the children in your care!