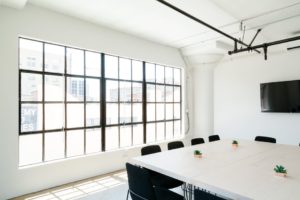 The big, beautiful windows in your office or building are part of what gives your space it's charm. It's lovely to see all that light stream in on a sunny afternoon, but it's not so great when that light reveals dust, dirt, smudges or streaks. No one wants to view the world through a dirty lens. If you see these pesky spots in your office in Radnor, window cleaning by a professional commercial cleaning is the solution.
How Spotless does Interior Window Cleaning in Radnor
There aren't many commercial cleaning companies out there that take as much pride in their process and products as we do. Here's what makes us different when it comes to your Radnor window cleaning.
Step 1: Remove all the dirt, dust and grime. With our advanced window cleaning solution and technique, we're able to remove all of the water spots, streaks and smudges left behind from people's hands or prior attempts to (poorly!) clean the windows.
Step 2: Use our eco-friendly cleaning products. We're proud to use environmentally conscious cleaning products so that your office not only shines and smells good, but you, your employees and the planet are not harmed by harsh chemicals and solutions.
Step 3: Clean the rest of the office to match. Now that you have sparkly new windows, you'll need an office that deserves them! Hire Spotless Commercial Cleaning to take care of all of your office cleaning needs. Here's what's included in a full office cleaning:

Clean basebords
Damp wipe trim and window sills
Vacuum draperies and clean mini blinds
Dust light fixtures and lamps
Dust picture frames and wall fixtures
Dust all surfaces, desks, filing cabinets, etc.
Clean kitchen sinks, countertops and appliances
Sanitize the bathrooms
Mop hardwood floors, vacuum carpet
Empty trash and recycling, replace bags
Contact Spotless Commercial Cleaning for Offices in Radnor Window Cleaning
The best part about using Spotless Commercial Cleaning? We guarantee our service no matter the size of your office or the frequency of visits from our team. You can opt for daily, weekly, bi-weekly or monthly cleans. Contact our office to get a free quote!