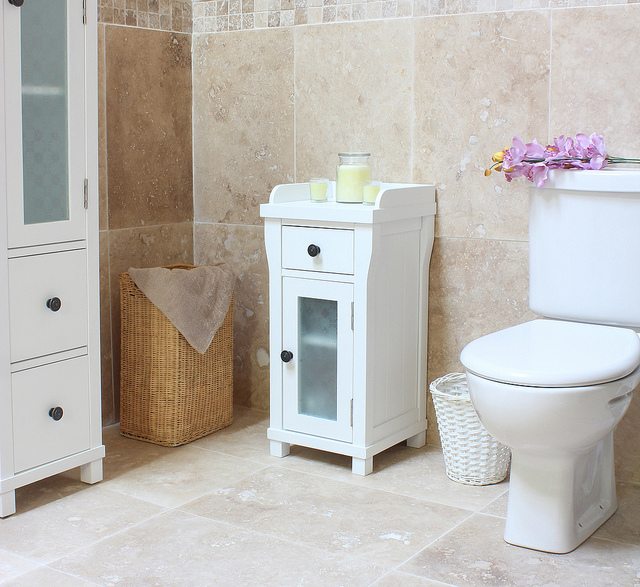 Photo Credit: Bonsoni.com
Office bathrooms are pretty straightforward. Since there aren't any bathtubs or showers to deal with, you only have to focus on the toilets, mirrors, sinks, and floors. It can't be that difficult to keep it clean, right? Wrong! Since many office bathrooms are small, that may be why some business professionals neglect them. They may only wipe down surfaces without thoroughly sanitizing. But keeping your office bathroom sparkling clean should be a priority in your building! Why? A clean bathroom will:
Improve employee morale. If a clean home is a happy home, the same goes for an office. The average employee uses the restroom at least three times a day, so that means there's going to be a lot of traffic going in and out. You can bet your employees are going to be affected by the state of the restroom — and they may start to complain about it.
Make a good impression on your clients. Nothing turns people off more than a dirty bathroom. If you want to make a successful first impression, your office needs to be kept in the best shape possible, or else you could lose customers who base your professionalism on the state of your office.
Protect your employees from illness. This is the most important reason to keep your bathroom clean — to prevent infections from spreading. It can also protect your company from receiving fines or other citations from your local health department.
These reasons should be enough for you to commit to keeping your office bathroom clean at all times! We know it can be a challenge, though — especially the tile and grout. Cleaning the floors of your bathroom may be the trickiest park. You may not be able to tell how dirty or sticky the tile is, so residue continues to build up. You may need professional cleaning solutions and tools to break through tough stains and buildup. And who's going to do it? Your employees? That's not going to go over well…
So what should you do if the task of maintaining a clean bathroom seems overwhelming and time-consuming? Contact a Montgomery County commercial cleaning company to come out to your office when you need them! Focus on your work, and leave the cleaning to the team at Spotless Commercial Cleaning. We specialize in office cleaning, window cleaning, carpet cleaning, and floor stripping. Tell us what you're looking for and we'll deliver it expertly, efficiently, and cost-effectively!
Email sales@spotlesscc.com or call (267) 217-2003 to learn more.