March 16th, 2023
Comments Off

on Montgomery County's Most Trusted Doctor's Office Cleaning Service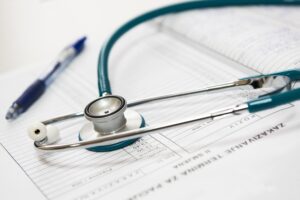 Anyone can attest to medical practices being some of the busiest workplaces you can find. Usually you can expect a constant buzz of important people doing important work, with little to no down-time. There's certainly no time to clean – and yet a clean and sanitary space is nonnegotiable at a medical office. That's where we at Spotless Commercial Cleaning come in! We're here to help you and your associates keep your place of practice as clean as possible. While you constantly stay busy, rely on the most trusted doctor's office cleaning service in the PA area. 
We'll Take Care of Everything
During a normal day at any medical practice, there is a constant flow of people, equipment and medical professionals all going about their daily lives, getting to where they need to be and meeting their responsibilities. During this time, there are plenty of opportunities for messes to occur, spills to happen and things that need cleaning up. Whether it's personal offices, examination rooms, waiting rooms, the cafeteria or kitchen, things will always need cleaning. We at Spotless ensure that you'll never have to pick up a broom. Instead, leave the cleaning to us. Whatever the mess, wherever it may be, we're here to take care of it.
The Most Trusted Cleaning Service
We at Spotless offer the best and most reliable cleaning services. Our cleaning experts have years of experience, along with proper knowledge and the best tools to ensure a job well done. Plus, our services cover everything you might need, as we can take care of bathrooms, personal offices, waiting rooms, examination rooms and even the cafeteria. On top of that, we offer window cleaning, carpet cleaning and so much more. No matter the mess, no matter the location, we can take care of it. 
Trust Spotless With the Job
As a medical professional, your plate is way too full to worry about cleaning. But a sanitary space is essential for the safety and comfort of your clients! Never fear – Spotless Commercial Cleaning is here to help. Trust us to consistently keep your office looking 100 percent. With loads of trusted clients and many years of experience in the industry, you can count on us to get the job done, and we're confident you'll be satisfied with our work. Whether it's a one time thing, or maybe you're looking for a weekly cleaning, we offer the services you need. Don't hesitate to contact us, and make sure your workplace remains rightfully clean!