May 27th, 2022
Comments Off

on Post Construction Cleanup: Resist The Renovation Mess!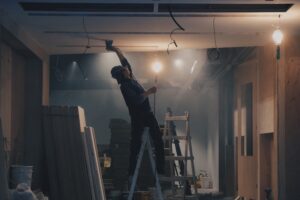 In the business world, expanding or remodeling your place of business is an exciting process. Whether it's a large scale construction project or a simple restroom renovation, newer and fresher is always better for business. But when it comes to construction in your company building, there's one part that's never fun: post-construction cleanup. After construction work, the surrounding area is often strewn with debris and caked with dust, making it hard to appreciate the finished product. Find out how Spotless CC can give you the best in West Norriton post-construction cleanup!
Sparkling Clean Windows
Windows in a place of business are good indicators of maintenance standards and priorities. Clean windows tell customers and employees that you care about upkeep; dirty windows paint a picture of careless negligence. Following a construction project, windows are almost always left in dusty disarray, so recapturing that sparkling clean look is a must. Spotless CC specializes in deep, thorough window cleaning that will leave your windows looking better than brand new!
Dust-free Baseboards
One of the most common areas for post-construction dust buildup is baseboard trim. Though less obvious, baseboard trim is an attractive accent that quickly catches the eye, especially if it's dirty! Because baseboard trim is usually white, dust, dirt and other blemishes stand out in contrast; dirt on your baseboard trim is a detail you don't want to overlook. Spotless CC pays close attention to baseboard trim, making sure it's eye-catching for all the right reasons!
Clean Carpets And Mirror-like Floors
Floors are hit hard everyday by heavy foot traffic and spills, but the aftermath of a construction project can make a floor nearly unrecognizable. That's where we come in. With years of experience cleaning floors, we can handle any variety of flooring with ease and efficiency. Whether your floors are carpeted, marble, wood or tile, our floor cleaning skills will leave you with a smile!
Get The West Norriton Post-construction Cleanup You Need!
Business expansion, remodeling and construction should be cause for celebration, not anxiety. If you're too busy feeling stressed about the leftover construction mess to enjoy the exciting step forward, you need a cleaning crew that you can trust! At Spotless CC, we've handled countless post-construction cleaning jobs, and we always leave the job site immaculate. For the cleanest business you've ever seen, go with Spotless for a deeper clean!