December 19th, 2022
Comments Off

on When the Weather Outside is Frightful, Keep Your Workspace Delightful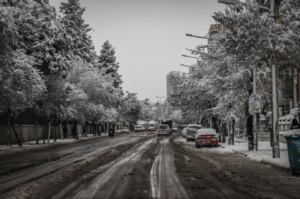 With the harshest part of winter quickly approaching, many of us are prepared for the snow and cold temperatures. However, some offices may not be adequately prepared for all the dirtiness these conditions can bring. Although fresh snowfall may look all clean and pretty, what comes with it is cause for concern. The dirty, slushy muck that we see when snow and parking lots mix is a gross accumulation of dirt and water that can ruin an office's floors and carpets if not treated properly. Plus, the cold weather means your workers will probably stay inside more, leading to more use of kitchens and bathrooms.When the snow starts to fall, make sure you keep your offices clean, and your employees happy!
Carpets and Floors
We've all experienced walking through the slushy mess of dirt and snow that accumulates in the winter, especially in places like parking lots. This gross combination can ruin your office carpets and floors in just a few days. Although tracking the slushy mixture inside is inevitable, staying on top of it is the best way to combat it.
Kitchens and Bathrooms
As temperatures continue to fall, workers will spend more and more time in the office. That means your kitchens and bathrooms will start to see a lot more use than normal. Instead of workers leaving for lunch, they may instead choose to avoid the weather and bring something from home, and they'll be expecting a clean space to cook and eat. The same goes for bathrooms, and although these spaces should be of concern year round, it is especially true in the winter. 
Trust Spotless Commercial Cleaning
One of the most important aspects for productivity is a clean work space. When workers are already facing the burdens of cold weather, tough driving conditions and an inhibiting lack of sunlight, the last thing they want to worry about is cleanliness. This is why you should trust us at Commercial CC, who are experts at making sure your office remains at its best. Don't let dirty floors, kitchens and bathrooms worsen the morale of your workforce. Let us do our best work, so your employees can do theirs. Contact us today to find out more about our services!