February 22nd, 2021
Comments Off

on Winter Cleaning Tips for the Office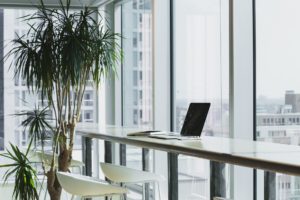 If you're on the hunt for office cleaning King of Prussia business owners can trust, Spotless CC can help! In today's post, we cover winter cleaning tips to help keep your space looking fresh and clean.
Winter Cleaning Challenges
Snow, salt, mud and outdoor foliage all present unique winter cleaning challenges. Additionally, colds, flu and Covid-19 make cleaning and disinfecting surfaces more important than ever. Having a cleaning strategy in place can help employees and customers feels good about returning to the office.
Doors and Walkways
Safety becomes a major concern once the cold weather hits. Whether walkways become icy or floors become slippery, it's important to take steps to prevent injury. Be sure to lay down waterproof safety mats near all entrances, and always take precautions to clear and salt walkways. It's wise to provide additional water-absorbing mats on the inside of entrances as well. This provides employees a way to dry off the soles of their shoes before walking on potentially slippery floors.
Disinfect Surfaces Frequently
Cleaning and disinfecting frequently touched areas can help prevent illnesses from spreading. A professional cleaning service comes equipped with all the right cleaners, tools and knowledge. Frequently touched areas include door handles, keyboards and elevator buttons.
Keep Windows Clean
Windows can look grimy after winter storms, which can be bad for employee morale and customer satisfaction. Furthermore, keeping windows clean allows more natural light into your building. Natural light helps improve health and can boost the moods of building occupants.
Deep Clean Floors and Carpets
Water, salt, mud and foliage can all get tracked into a building in the winter, leaving floors and carpeting looking dirty. Keeping floors clean and dry will help them last longer and improve the overall look of your building. Again, be sure to put out mats where employees can wipe their feet. Lastly, keep floors and carpets looking fresh by scheduling regular deep cleanings.
Spotless CC is Here to Help!
Spotless CC provides comprehensive office cleaning, floor stripping and post-construction cleaning services. Give us a call at 267-217-2003 or contact us here today for your free environmental cleaning quote!