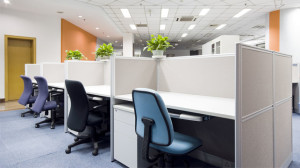 Spotless Commercial Cleaning is a Montgomery County commercial cleaning company that knows just how valuable your time is. We also know that keeping the office clean is crucial for the success of your business. So that's why we offer affordable office cleaning services, so our professionals can take away the stress of cleaning the office and can keep it off of your to-do list!
When you're a working professional, time at the office nearly dominates your life. Usually by the time we get home, there are only a few, precious hours left before exhaustion kicks in and sleep takes over. Even for those of us who don't work much over time, the 40 hour work week takes up most of our waking hours! Hopefully you're in an industry that you enjoy, but even still, when time is of the essence it's  important that you and your employees don't take on any unnecessary projects that will take time away for your work, or your work breaks!
If you think hiring a professional Montgomery County commercial cleaning company to help your office stay tidy isn't what your office needs, think again! Here are some reasons to reconsider:
Save Money – When your employees take on daily office cleaning chores, they're not able to spend as much time on their own work projects. But if a professional comes in and does the job for them, the saved time will add up to money made for your business!
Get Expert Skill – Cleaning correctly requires skill and knowledge of the safest products to use and the equipment that does the job best. Why invest in a complicated, store-bought vacuum when we can bring our state-of-the-art cleaning equipment that we're  already trained to operate?
Boost Office Morale – A great day at work definitely doesn't include scrubbing the office kitchen sink and doing your coworkers dishes. Keep office morale high by allowing your employees to enter a clean and healthy work environment every day so they can focus on their work, only.
Contact This Montgomery County Commercial Cleaning Company for Help!
Hiring a professional Montgomery County commercial cleaning company is not just a luxury, it's an investment that is sure to pay off in the long run. The list doesn't just end at boosting office moral – clean offices also lower sick days, provide great first impressions and much more. Our services include window and carpet cleaning, floor stripping and general office cleaning. Plus we cover all of Montgomery County and surrounding areas such as Wayne, Souderton, Doylestown and more. Call us today at 267-217-2003 to schedule cleaning services with the #1 Montgomery County commercial cleaning company!